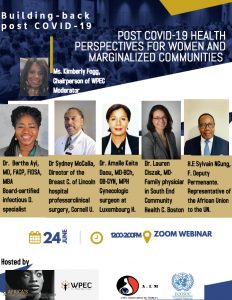 I'd like to send a heartfelt thank you to Dr. Amalle Daou, Dr. Sydney McCalla, H.E. Sylvain Ngung, Dr. Bertha Sewa Ayi and Dr. Lauren Ciszak,for your participation in our post COVID-19 webinar yesterday. We were fortunate to have a wide range of speakers from important specialties. Together, we spoke about public health, women's health, infectious diseases, COVID-19 evolution and testing, and family health. We had a special focus on the women and vulnerable communities from the social and humanitarian point of view from H.E NGung's speech.
In fact, It is our collective efforts and thoughts on best practices that had brought us closer to resolving this important issue. Our conference ended with important resolutions that will help policy-makers to take adequate decisions to protect women and vulnerable populations during the health emergency crisis. The webinar as a video-conference that is part of our "What We Need to Know" webinar series, to continue the conversation about the work that must be done to mitigate the extreme need of neediest communities to be assisted and not left behind. Please visit our Women's Program Engagement Council (WPEC) Facebook page to see it live: https://lnkd.in/euHb9Xn
COVID-19 has exposed so many inequalities in our Black and Brown communities like never before, so like our Water is the Life-line of Life initiatives to bring awareness to the crisis of the lack of clean/safe drinking water for our African Children and their families, GSP felt compelled to pivot our efforts to address the crisis with the lack of the critical health care infrastructure, the financial resources to adequately address the crisis, and the economic damage of those who are also disproportionately vulnerable to COVID-19's economic ramifications.  That's why, GSP, the Women's Program Engagement Council (WPEC) and our Global Village is hosting a webinar series called "What We need to Know" to give us "A Seat At the Table" to have a conversation exploring how we can mitigate the economic impacts of COVID-19 on the ground. We have partnered with our resource partners (see below), using our digital/communications platforms (e.g. via webinars, radio, TV, social media, mobile technology)  as a vehicle to help us connect to Black/Brown and vulnerable communities nationwide/globally, using a holistic approach to inform, educate, reform, inspire and provide coping skills, to equip our Black and Brown communities, minority, immigrant and small and women-owned businesses with facts/tools needed to help keep their families safe and healthy and financially afloat. Our goal is to support communities and struggling small businesses and connecting them to resources at the local, state, and federal levels. Additionally, we want to help lay the groundwork for recovery in the months and years ahead to come and identify what further support is still needed to ensure our communities durably emerge from this crises, because we know that the devastating impact on the survivability with soaring unemployment, poverty and economic conditions will continue to plague our Black and Brown communities if we don't have "A Seat At The Table!"
Below, please see our webinars: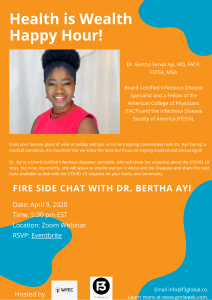 Our "What We Need to Know" Health is Wealth Fire Side Chat Webinar featured, Bertha Ayi, MD, FACP, FIDSA, MBA, a motivational speaker, and renowned board-certified infectious diseases specialist. Dr. Ayi did not disappoint!  We had over 350+ friends from the US, Africa and the UK who participated.  She discussed the pandemic and identified social determinants to health (e.g. diabetes, High blood pressure, obesity and life expectancy) that make our Black and Brown communities more vulnerable to COVID-19.  Dr. Ayi was beyond amazing — she was wickedly brilliant! There were many takeaways — she inspired, educated and equipped us with the tools needed to battle and protect ourselves, our families and our community from COVID-19 to help keep us safe, but her infectious positive attitude and her faith struck a cord with all of us and truly lifted my spirit. Lots of request for an encore/follow-up!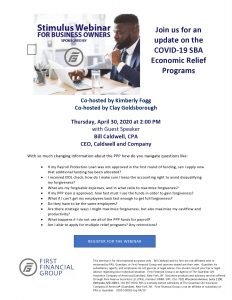 Our Stimulus Package "What We Need to Know" to have "A Seat at the Table: webinar, featured William Caldwell, Caldwell, CPA's and Clay Goldsborough, First Financial Advisors. They provided information to help identify/sharing economic opportunities, different resources for small businesses/entrepreneurs that needed access to apply for PPP, unemployment, non-traditional banking, etc. – "A Seat at the Table!" Over 60 people participated, and several participants and CPA clients were approved and/or received their PPP and/or received unemployment.  
Our "What We Need to Know" "Now that you have, you're PPP," webinar is scheduled for May 28th. To make sure we can document and trace the uses and disbursement of the COVID Relief proceeds – specifically PPP for which we have to document and report during the Forgiveness process.